ABout
Preschool Path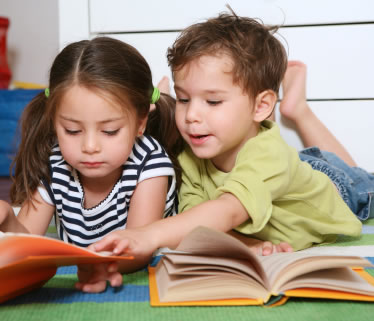 Quality early childhood resources for youngsters age 3-6, parents, and caregivers are essential for the success of individual children, their families, and ultimately the economic viability of our state. From birth until 5 years old a child undergoes tremendous growth and change. If this period includes support for growth in cognition, language, motor skills, adaptive skills and social-emotional functioning, the child is more likely to succeed in school and later contribute to society (Erickson, M. & Kurz-Riemer, K). Research has found that for every $1 invested in high quality early education, the public gets a return of at least $3 and some argue up to $12 in terms of less remedial education, lower crime, a reduced need for welfare benefits and better economic productivity (Grunewald & Rolnick; Lynch, 2004).
Utah Education Network addresses this need by creating Preschool Path, Utah's Early Learning Online Library, a collection of high quality educational resources modeled after the very successful Utah's Online Library for K-12, college, and public library patrons.
As Utah's educational technology network, and because of our relationship with PBS and other national providers, UEN is uniquely positioned to address the rising need for school readiness curricula and leverage existing infrastructure to achieve cost efficiencies. Through consortium pricing, Utah's Online Library resources are licensed at considerable cost savings. For example, t he K-12 products would cost Districts $11-$17 per student if licensed separately. Through Utah's Online Library, UEN licenses these products for $1.12 per student.
Preschool Path aggregates interactive learning games, curriculum ideas, parent and caregiver support materials, and other vetted resources from PBS, national, and local providers. The site is free to all families with young children in Utah – and accessed via the Internet in homes, libraries, care centers, and school-based early childhood programs.
Why Preschool Path?
There is a critical need for increased early childhood education resources and opportunities for Utah's preschool age children.
2016 estimates 253,450 Utah Children between ages 0-4.
27% of Utah's population is under the age of 5. 1
U.S. Census Bureau, Population Estimates Program (PEP). Updated annually. Population and Housing Unit Estimates U.S. Census Bureau, 2010 Census of Population, Public Law 94-171 Redistricting Data File. Updated every 10 years. American FactFinder
Nationwide, state-funded preschool program enrollment reached an all-time high, serving nearly 1.5 million children. 2
In 2016 Nationally, funding for preschool rose 8 percent to about $7.4 billion, a $564 million increase.
Utah is 1 of only 7 states that do not fund preschool at all. Preschool Path is a FREE resource available to all Utah families.
2014, Utah House Bill 96 was created High Quality School Readiness Initiative. creates grant funding for existing public and private early education programs to increase quality, and funds independent evaluation. The bill details components of high-quality programs as well as home-based educational technology programs that may enter into a results-based contract with the Board. The initiative began serving children in the 2014-2015 school year.
2016 Utah Senate Bill 101, the High Quality School Readiness Expansion (HQSR-E), was passed.The HQSR-E Grant program provides grant funds to LEAs with existing early education programs deemed high-quality, as determined by the Early Childhood Environment Rating Scale ECERS-3, ECERS-R, and some additional rubric criteria.
For the 1st time, during the 2016-2017 school year, Utah offered Head Start programs some limited funding to increase the number of high-quality preschool program slots.
In February 2017, the Utah State Board of Education agreed to have the 2012/2013 Early Childhood Core Standards revised.
Utah Special education enrollment, ages 3 and 4 is 6,125 children
 Utah Federally funded Head Start enrollment, ages 3 and 4 is 5,257 Children. 3
 In 2014, 13% of Utah Children were living in poverty.
 2012–2014 59% of Utah's Young children (below age 6) not enrolled in school.
64% of Utah Head Start Teachers hold a BA or higher. (connected info to HB96/ 101 and #17 below). 4
Preschool Path has on average 4,500 unique visitors each month.
Preschool Path has more than 500 learning assets in English and Spanish.
 To help low-income early childhood workers access higher education, UETN collaborated with the UHSA, USBE, SUU, WSU, & Early EdU to launchOpportunity Utah: Access for Early Childhood Workforce. 
In 2017 66,944 visits to Preschool Path
U.S. Census Bureau, Population Estimates Program (PEP). Updated annually. Population and Housing Unit EstimatesU.S. Census Bureau, 2010 Census of Population, Public Law 94-171 Redistricting Data File. Updated every 10 years. American FactFinder
32 percent of 4-year-olds and 5 percent of 3-year-olds.
Learn more about Research in Early Childhood learning.
If you have questions or suggestions about this service, please contact us. If you would like to add the Preschool Path logo to your organizations web site visit the UEN Logo Widgets page.