Research
Early Childhood Learning Research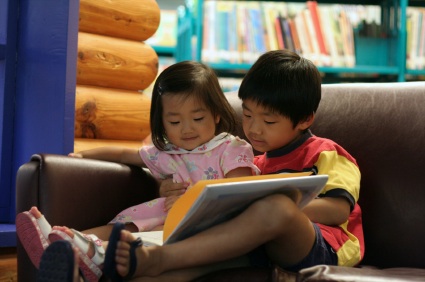 Making Room for TV and Videogames in Literacy
James Paul Gee, University of Arizona, and Michael Levine, who heads the Joan Ganz Cooney Center at Sesame Workshop, say that current approaches to teaching literacy are too far removed from the digital media consumption that increasingly drive children's lives. They say many kids are more immersed in writing through online outlets than they are in school and make the case that digital media hold great promise to speak to our educational problems. Their article "TV Guidance" appears in the Spring 2009 issue of the journal Democracy.
National Early Literacy Panel Reports
The National Assessment of Educational Progress reveals that 37 percent of U.S. fourth graders fail to achieve basic levels of reading achievement. The incidence of reading failure is even higher within low-income families, ethnic minority groups, and English-language learners. Large-scale studies have shown that young children—those entering kindergarten and first grade—vary greatly in their attainment of the early precursor skills that provide the launching pad for later literacy learning (West, Denton, & Germino-Hausken, 2000; West, Denton, & Reaney, 2000). What can be done in U.S. homes, preschools, and kindergartens to better prepare children to succeed in learning to read and write?
Public Media Closes the Early Literacy Gap - Research Shows Educational Media Accelerates Learning
A new study shows preschool children who participated in a media-rich literary curriculum integrating public media video content and educational games were better prepared for kindergarten than students who did not use the curriculum.
The study, which was conducted by researchers at the Education Development Center, Inc. and SRI International, evaluated educational video content and associated interactive games from Super Why!, Between the Lions and Sesame Street, which are produced as part of the Ready To Learn (RTL) initiative. RTL aims to increase literacy skills for children aged 2-8 living in high poverty communities, by utilizing multiplatform content. The researchers examined the impact of the curriculum which included public media content in a randomized controlled trial with 398 low-income four and five-year olds from 80 preschool classes in New York City and San Francisco. The children who had public media content in their classes developed significantly more early literacy skills – the ability to name letters, know the sounds associated with those letters and understand the basic concepts about stories and printed words – than children who did not have public media content in the classroom.