Technology

Sean's Rescue Quest
Help Sean rescue the roover.

Crank it Up!
Make music with items from DW's garage.

Video Smashup
Create your own video smashup of the Electric Company.

Snapshot
Take pictures to fill a photo album.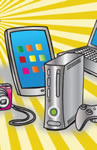 Tool Shed
Help Bob put his tools where they belong.
Co-Co's AdverSmarts
Help Co-Co Crunch design a new web site.