ABout
Preschool Pioneer Library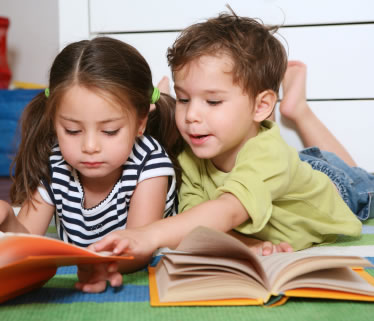 Quality early childhood resources for youngsters age 3-6, parents, and caregivers are essential for the success of individual children, their families, and ultimately the economic viability of our state. From birth until 5 years old a child undergoes tremendous growth and change. If this period includes support for growth in cognition, language, motor skills, adaptive skills and social-emotional functioning, the child is more likely to succeed in school and later contribute to society (Erickson, M. & Kurz-Riemer, K). Research has found that for every $1 invested in high quality early education, the public gets a return of at least $3 and some argue up to $12 in terms of less remedial education, lower crime, a reduced need for welfare benefits and better economic productivity (Grunewald & Rolnick; Lynch, 2004).
Utah Education Network addresses this need by creating Preschool Pioneer Library, an online collection of high quality educational resources modeled after the very successful Utah's Online Library for K-12, college, and public library patrons.
As Utah's educational technology network, and because of our relationship with PBS and other national providers, UEN is uniquely positioned to address the rising need for school readiness curricula and leverage existing infrastructure to achieve cost efficiencies. Through consortium pricing, Utah's Online Library resources are licensed at considerable cost savings. For example, the K-12 products would cost Districts $11-$17 per student if licensed separately. Through Utah's Online Library, UEN licenses these products for $1.12 per student.
Preschool Pioneer Library aggregates interactive learning games, curriculum ideas, parent and caregiver support materials, and other vetted resources from PBS, national, and local providers. The site is free to all families with young children in Utah – and accessed via the Internet in homes, libraries, care centers, and school-based early childhood programs.
Why Preschool Pioneer?
There is a critical need for increased early childhood education resources and opportunities for Utah's preschool age children.
Utah has a young and growing population
There are 152,479 Utah families, with 285,513 young children (under age 6) in the state, representing about 10% of the state's population. (National Center for Children in Poverty)
According to the Utah 2007 Census Bureau there are 49,636, 4 year olds & 48,376, 5 year olds
41% (115,720) of Utah's young children live in low-income families (National: 43%), defined as income below 200% of the federal poverty level. (National Center for Children in Poverty)
How do our kids perform nationally?
Forty percent of Utah children enter kindergarten without the basic skills necessary to be a successful reader and a good student, compared with 35 percent nationally (Carroon, 2006; Carnegie, 1994).
There is a 90% probability that a child will remain a poor reader at the end of the fourth grade if they are a poor reader at the end of the first grade (Lyon, G. Reid, 1998).
90-95% of poor readers can reach average reading skills with early intervention (Lyon, G. Reid, 1998).
If intervention is delayed until 9 years of age, when most intervention happens, 75% of these children will continue to have difficulty learning to read throughout high school (Lyon, G. Reid, 1998).
Utah's Hispanic students had an average NAEP Reading scores that was lower than that of Caucasian students by 26 points. Likewise in 2007, students who were eligible for free/reduced-price school lunch had an average score that was lower than that of students who were not eligible for free/reduced-price school lunch by 20 points.
While a cursory review of Utah's NAEP scores reveals a state positioned just above the national average in the number of fourth and eighth graders achieving proficiency in math and science, a study of the data reveals a disturbing and stark variance among Caucasian and minority students.
Utah's American Indian students perform 20 percentile points below their Caucasian peers on national academic tests, for example,
The gap in math achievement as measured among Utah's Caucasian and Latino eighth graders is the 28th largest among the 39 measured states, with Utah's eighth grade Latino students scoring 35th of 39 states in math (Harrington, 2007 and Lee, 2002).
Learn more about Research in Early Childhood learning.
If you have questions or suggestions about this service, please contact us. If you would like to add the Preschool Pioneer logo to your organizations web site visit the UEN Logo Widgets page.